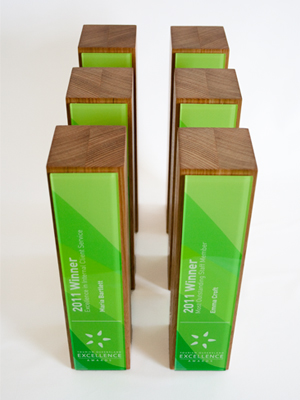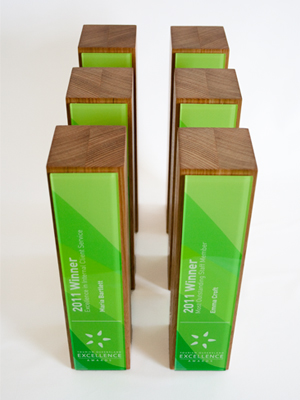 classic premium - eco friendly materials
priced between $180 - $200 each
Prices are based on quantity, printed/engraved details, timelines and final specifications. Bulk discount available.
 
specifications
Size - 285mm H (11") x 65mm W (2.5") x 65mm D (2.5")
Weight - Approximately 1kg (2.2 pound)
inclusions
- Artwork setup and printing in full colour on aluminium
- Artwork must be supplied in eps format
 
lead time
1-2 weeks
Lead times can vary depending on the size of the project, design approval and final artwork approval.
sustainability features
- We source our wood products from suppliers that are FSC certified.
- Our Pine Beetle wood is recovered from devastated forests.
- Bamboo is fast growing; harvestable in 1-3 years as opposed to hardwoods that can take up to 40 years + to mature.
- Aluminium is 100% recyclable
- Aluminium has a lower melting temperature than other metals (less energy required to create/recycle)
- Anodising uses less product to create a coating than painting or powder coating. Additionally, overspray or post painting clean up (solvents) is not an issue with anodising.
wood options
- Bamboo, natural
- Bamboo, caramel
- Pine beetle wood (denim pine, recovered)
- Cedar
- Douglas Fir
- Maple
- Red Oak
- Poplar
- Others available on request
Creating sustainable and eco friendly awards has now become a speciality of ours in recent years. Most of our trophies, awards, plaques and gifts now incorporate some form of sustainable, eco friendly or recovered materials. So much so that, working with sustainable and eco friendly materials is just the way we work now. I am sure the environment will be thankful for our efforts.
Contact us today to discuss incorporating sustainable and eco friendly materials into your next project. If you are purchasing our product from inside the USA, take advantage of the NAFTA and you will not need to pay any sales tax!